Uncategorized
Cricketers queue up to wish Yusuf Pathan on his wonderful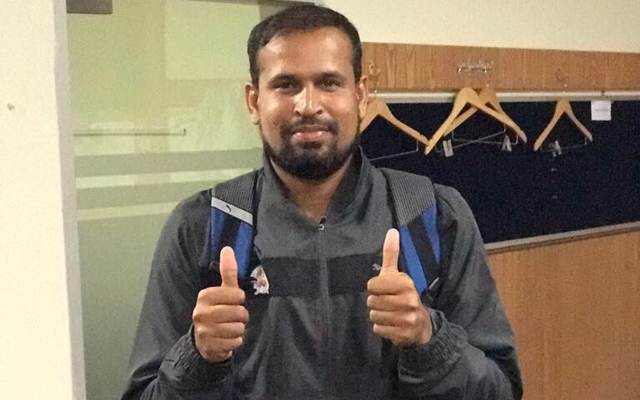 Yusuf Pathan announced his retirement from all forms of cricket on Friday.
Yusuf Pathan. (Photo Source: Twitter)
After 20 years of playing professional cricket, Yusuf Pathan decided to call it quits announcing his retirement on Friday. The 38-year-old from Baroda announced the news of his retirement by putting up an emotional tweet, where he thanked all his fans, family, and friends, for helping him in his journey. 
As soon as this news came, players from all across the country started to wish him luck for his journey ahead. Yusuf was part of India's two World Cup triumphs, the inaugural World T20 in South Africa in 2007 and the ICC Cricket World Cup 2011 in the Indian subcontinent. Apart from this, he also tasted success in the IPL. He won his first title with Rajasthan Royals in 2008. 
After moving to Kolkata Knight Riders, he played a crucial role in helping them lift the trophy in 2012 and 2014. He had an illustrious career with Baroda and India A. He ended his career after playing 100 first class, 199 List A and 274 T20 matches. For all his achievements, he received a lot of love from his fans.
It was a huge pleasure and fun to play alongside you: Rashid Khan
Among cricketers, his ex-KKR teammate Laxmi Ratan Shukla was one of the first to congratulate Yusuf on his brilliant career. ICC also wished him a happy retired life. Fellow player, Vinay Kumar, who incidentally retired on the same day with Yusuf also made sure he wished him the best for the journey ahead. 
Rashid Khan said on Twitter, "Best wishes on your retirement. One reason for your life has ended and you are now stepping into the best reason yet. Strive to achieve and accomplish all your life's goals and have fun as you do it. It was a huge pleasure and fun to play alongside you." The two players were close during their time at the Sunrisers Hyderabad franchise. 
Yusuf Pathan thanked each and everyone for the wishes. He replied to many of the tweets, which included stars like Mohammad Kaif, Dinesh Karthik, Wasim Jaffer, Aakash Chopra, Shikhar Dhawan, Harbhajan Singh, VVS Laxman, Yuvraj Singh, Virender Sehwag and Suresh Raina. 
Yusuf Pathan played 57 ODIs and 22 T20Is for India. He scored 810 and 236 runs in ODIs and T20Is respectively. He also picked up 46 international wickets with his off-spin bowling. 
Thank you so much enjoyed all the moments with you in the KKR camp. https://t.co/71YtDms5nN

— Yusuf Pathan (@iamyusufpathan) February 27, 2021
Thank you @karun126, always a special feeling to hear such words. https://t.co/Rpx57a7Jmn

— Yusuf Pathan (@iamyusufpathan) February 27, 2021
Likewise feeling. Enjoyed my on-field moments with you. Happy retirement @Vinay_Kumar_R enjoy your second innings. See you soon 🇮🇳 https://t.co/9VlaKAkJpM

— Yusuf Pathan (@iamyusufpathan) February 27, 2021
Thank you, Rashid. Looking forward to my post-retirement life. Hopefully it will be a rollercoaster ride just like my first innings. https://t.co/ZhV5t89ATn

— Yusuf Pathan (@iamyusufpathan) February 27, 2021
Likewise Kamran, enjoyed sharing the dressing room with you in IPL 2008. Thank you for your wishes. https://t.co/IZkfUeto5g

— Yusuf Pathan (@iamyusufpathan) February 27, 2021
Always felt proud of my achievements. Many memories to cherish Wasim bhai..Thanks a lot https://t.co/xLfz6seZpH

— Yusuf Pathan (@iamyusufpathan) February 27, 2021
Thank you DK…Enjoyed many memorable moments in the dressing room. https://t.co/dRUJkTg4Gs

— Yusuf Pathan (@iamyusufpathan) February 27, 2021
Thank you Kaif bhai. Many memories with you on and off the field. https://t.co/agHvcem6Eq

— Yusuf Pathan (@iamyusufpathan) February 27, 2021
Thank you @cricketaakash . Always loved staying in the middle to entertain the audience. https://t.co/yKQHeL1GpF

— Yusuf Pathan (@iamyusufpathan) February 27, 2021
Thank you @SDhawan25 for your kind words. Good luck for your upcoming games. https://t.co/C6ckhJVGTA

— Yusuf Pathan (@iamyusufpathan) February 27, 2021
Love you too ️ Thank you for your sweet words @harbhajan_singh https://t.co/wqAxBhEBXh

— Yusuf Pathan (@iamyusufpathan) February 27, 2021
Thank you Laxman bhai for very very special words. Always a special feeling to hear such heartwarming words. 🇮🇳 https://t.co/uxCWM46UeU

— Yusuf Pathan (@iamyusufpathan) February 27, 2021
Thank you Viru paji. You are an inspiration to many. Thank you for always entertaining us.

— Yusuf Pathan (@iamyusufpathan) February 27, 2021
Thank you @YUVSTRONG12 …always special to hear such words from you. Many memories with you in the dressing room. https://t.co/KHLMZwzi8E

— Yusuf Pathan (@iamyusufpathan) February 27, 2021
Thank you for the wishes @ImRaina. Lots of love…see you soon… ️️️🇮🇳🇮🇳 https://t.co/vH86GBi9hA

— Yusuf Pathan (@iamyusufpathan) February 27, 2021
Thanks for the wishes @azharflicks bhai. Always loved your wristwork. Looking forward to my new innings and meet you soon. 🇮🇳 https://t.co/MEvvS6bO86

— Yusuf Pathan (@iamyusufpathan) February 27, 2021
Thank you Kumble bhai. Lots of learnings from your career.

— Yusuf Pathan (@iamyusufpathan) February 27, 2021
Thank you @GautamGambhir . Many memorable moments playing with you for India and @KKRiders. Lots of love to you, Aazeen and Anaiza. https://t.co/QXwu0ERhxS

— Yusuf Pathan (@iamyusufpathan) February 27, 2021
Thank you @sachin_rt paji, learnt a lot from you in the dressing room, on and off the field. Loved each and every moment being a part of Team India. Many memories to cherish. https://t.co/hrpm09qLBQ

— Yusuf Pathan (@iamyusufpathan) February 27, 2021