Uncategorized
Xiaomi MIUI 12.5: All you need to know – New Features, Beta, Device List, and More » RM Update News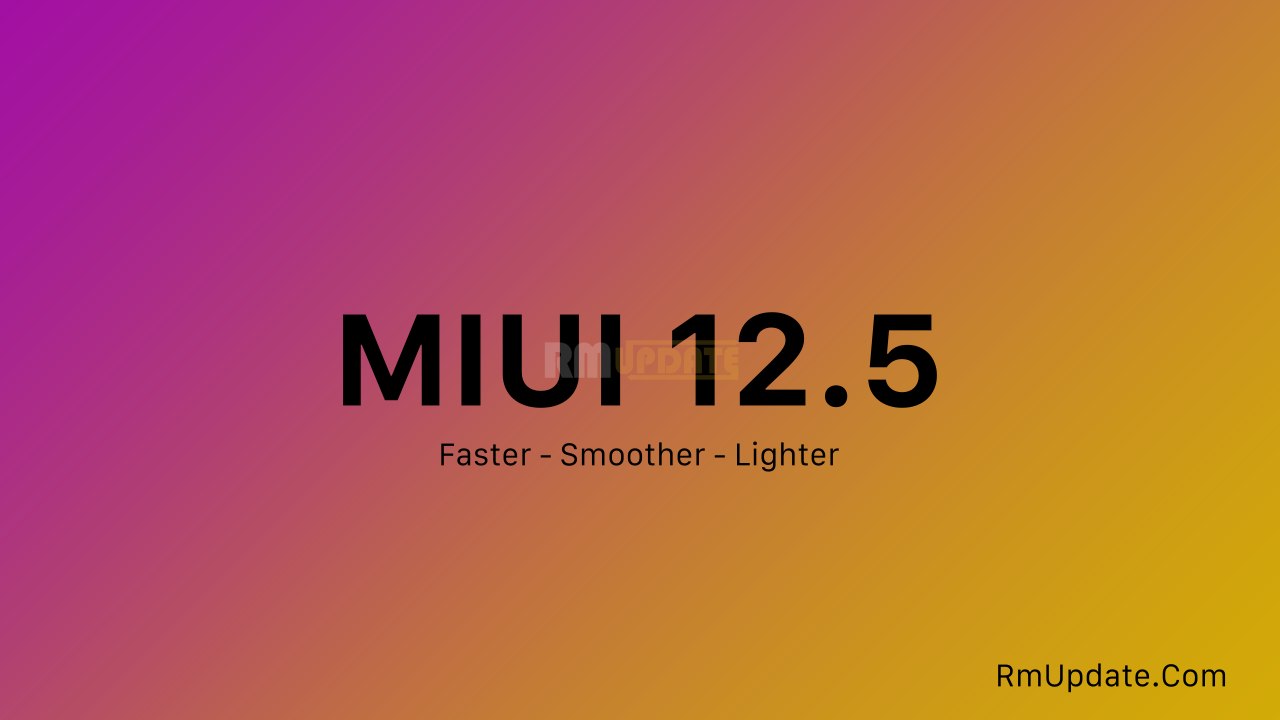 Chinese tech brand, Xiaomi has officially announced the next version of MIUI 12 as MIUI 12.5. it brings aesthetic changes in addition to few changes to privacy, and a new connection with the computer.
The MIUI 12.5 is lighter, faster, and more efficient than before. In fact, it uses 20% fewer cores than before with 35% less background memory, and 25% less power consumption.
MIUI 12.5 Features:
1. System Design
MIUI 12.5, gestures received a dedicated thread, making sure that no other tasks will interfere with them, and guaranteeing instant response. A lighter and faster operating system! Less CPU usage, less power consumption. MIUI 12.5 brings an improved battery life to your phone!
2. New Super Wallpapers
MIUI 12.5 brings New super wallpapers to break through the boundaries of space and touch imagination at your fingertips. From the screen display to the lock screen, to the mobile desktop, every screen changes into an imagined space.
3. Notes App
Take notes like a pro. Whenever ideas come to you. Structure and organize your ideas on the phone. Users can now add quick mind notes, Generate brain Maps(a chronology of notes) with just a click. Additionally, the update brings graffiti function, optimization for finger painting(with 4 brush strokes).
4. MIUI+
Xiaomi introduced MIUI 12.5 its connecting feature with computer MIUI+(Beta). With this users can do the following actions on the computer:
View Mobile notifications, Open Apps
Copy/Paste Text
Open Screenshots
View Web pages from Mobile
Release Date: List of MIUI 12.5 Global ROM compatible devices
1st Batch(Q2, 2021)
Mi 10T
Mi 10T Pro
Mi 10
Mi 10 Pro
Mi 11
2nd Batch(Late Q2, 2021)
Mi 10 LIte 5G
Mi 10T Lite
Mi Note 10 Pro
Mi Note 10
Mi Note 10 Lite
Redmi Note 9T
Redmi Note 9 Pro
Redmi Note 9S
Redmi Note 9
Redmi Note 8 Pro
Redmi 9
POCO F2 Pro
POCO X3 NFC
MIUI 12.5 Eligible Device List [Expected]
Redmi Note 9T
Redmi 9T
Redmi 9 Power
Redmi Note 9 5G
Redmi Note 9 Pro 5G
Redmi K30s
Redmi K30 Ultra
Redmi 9 Prime
Redmi 9i
Redmi 9
Redmi 9A
Redmi 9C
Redmi 10X Pro 5G
Redmi 10X 5G
Redmi 10X 4G
Redmi K30i 5G
Redmi K30 5G Racing
Redmi Note 9 Pro
Redmi Note 9
Redmi K30 Pro Zoom
Redmi K30 Pro
Redmi Note 9S
Redmi Note 9 Pro Max
Redmi 9
Redmi K20 Pro Premium
Redmi K30
Redmi K30 5G
Redmi K20 Pro
Mi 10T Pro
Mi 10T Pro 5G
Mi 10T
Mi 10T 5G
Mi 10T Lite
Mi 10T Lite 5G
Mi Note 10 Lite
Mi 10 Youth 5G
Mi 10 Lite 5G
Mi 10 Pro 5G
Mi 10 5G
Mi 10 Ultra
Mi Note 10
Mi Note 10 Pro
Mi CC9 Pro
Mi Mix Alpha
Mi 9 Pro 5G
Mi 9 Pro
Mi 9 Explorer
Poco C3
Poco X3 NFC
Poco X3
Poco M2 Pro
Poco M2
Poco F2 Pro
Poco X2
Black Shark 3 Pro
Black Shark 3
Black Shark 2 Pro
Black Shark 2
Black Shark 3S
Latest MIUI news
Download MIUI Alpha Launcher 4.22.0 Version APK with new features
 Xiaomi MIUI 13: Release Date, Features, Supported Devices, and More
[Download] Redmi 8A Pro starts receiving MIUI 12 update in Indonesia
If you like this article follow us on Google News, Facebook, Telegram, and Twitter. We will keep bringing you such articles.