Uncategorized
Best laptops 2021: Reviews and buying advice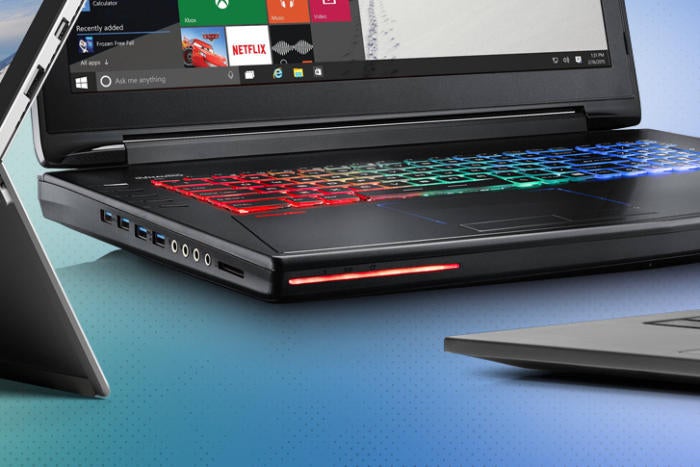 The dogpile of new laptop technologies—AMD's Ryzen 5000 and Intel's Tiger Lake CPUs, plus Nvidia's RTX 30-series mobile GPUs—are leading to a welcome rain of faster, better portable PCs, the latest of which we've just started reviewing. It's still a tight market, as pandemic-fueled sales remain strong. But if you yearn for the latest and greatest, this is your time. Keep reading for the latest news and reviews. (Psst: We also have a list of the first laptops available with RTX 30-series.)
Our top picks are below: 
Best laptops cheat sheet: Our top picks
Latest laptop news and reviews
Here are the latest stories:
Lenovo's ThinkPad business line isn't normally known for being exciting, but we like two things we see with the new spring lineup: 3:2 aspect-ratio displays, and your choice of AMD or Intel CPUs. Read all about it.
The HP Spectre x360 14 is our new top pick for best thin-and-light laptop. It boasts impressive performance, stellar battery life, and a luxurious design that doesn't forget the important things, like a comfortable keyboard, one USB-A port, and a physical kill switch for the webcam. At $1,590 on HP.com, it's not even crazy-expensive. Read our full review.
A gaming laptop that's…quiet? You heard right. Gigabyte's Aorus 17G ($2,700 on Newegg) is truly and shockingly quiet and fast during gameplay, as we saw when we tested it. Unless you're so obsessed with ultimate gaming performance that you'd gladly strap on headphones while your laptop's fans scream, the Aorus 17G should be on your short list—and it's our new top pick for best gaming laptop. Read our full review.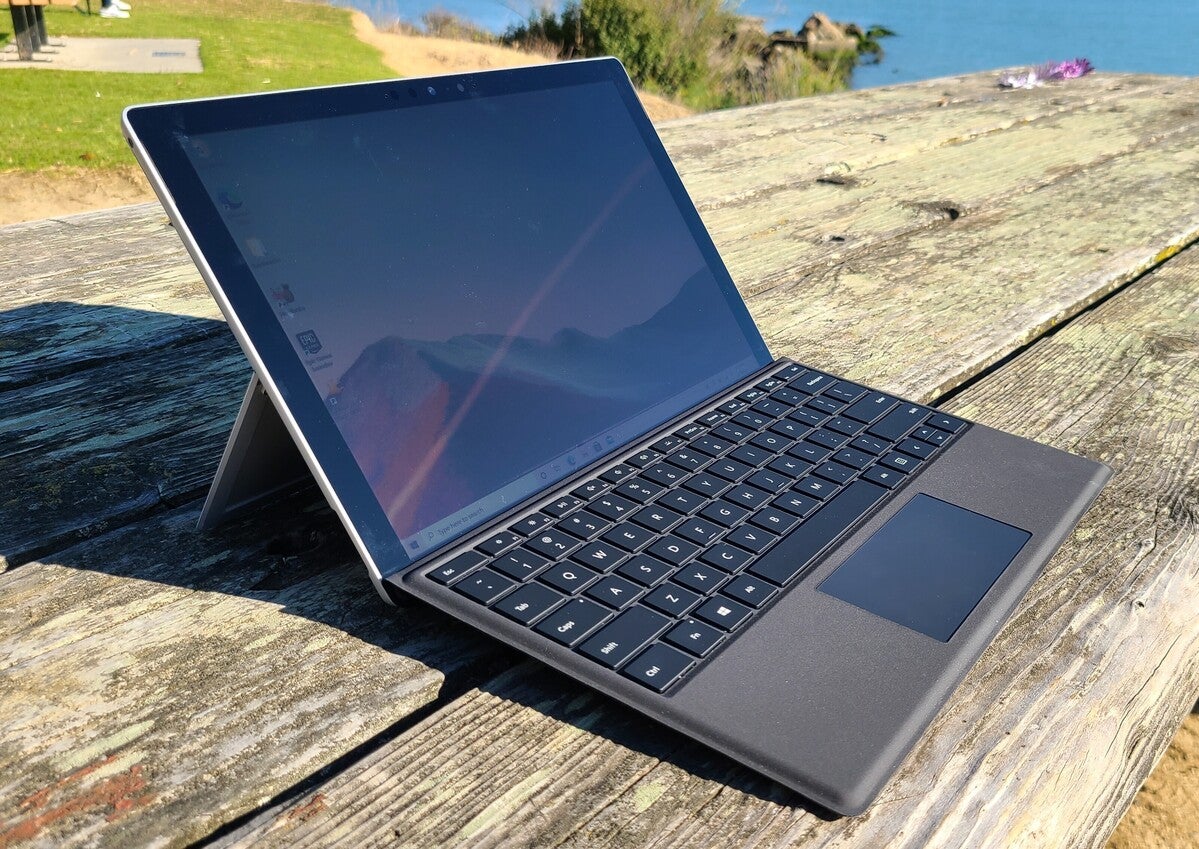 Mark Hachman / IDG
Microsoft's Surface Pro 7+ gets a huge graphics upgrade.
Did you buy a Chromebook last year? A lot of people did, apparently, because Chromebooks far outsold MacBooks in 2020 (the two platforms were neck-and-neck the year prior). Might have helped that most Chromebooks are a lot cheaper than Apple's laptops, and dead-simple to use. 
Microsoft's Surface Pro 7+ ($1,650 from Microsoft.com) may sound like a spinoff of its predecessor Surface Pro 7, but it actually represents a giant leap forward in graphics prowess that surprised and delighted us. It's also the best Windows tablet you can buy. You've read the early performance benchmarks, now read our full review. 
Best thin-and-light laptop
When we think about the best thin-and-light laptop, it's always been a close contest between the Dell XPS 2-in-1 and the HP Spectre x360. This time around, we're giving the luxurious HP Spectre x360 14 some time in the sun, with a nod to the Dell XPS 13 2-in-1 9310 that preceded it as our top pick. The Spectre x360 14, now sporting the same Intel 11th-gen Tiger Lake CPU available in the Dell XPS line, trades blows with its eternal rival in test after test. It rises to the top because of a few key advantages: It offers longer battery life (thanks to a bigger battery), a far better keyboard, and little things like a USB-A port and a physical webam shutoff switch, all for a lower price. Well played. Read our full review.
[ $1,590 on HP.com ]
Runner-up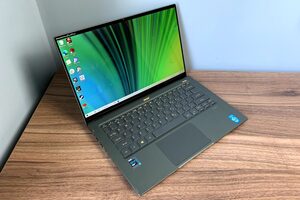 Jared Newman / IDG
Now that Apple's M1 chip has raised the bar for lightweight laptop performance, there's a question every ultraportable PC maker must address: Why would someone buy this instead of a MacBook Air?
Well, here's an answer for the new Acer Swift 5: It's fast enough to play Fortnite and a bunch of other games that are absent from Apple's platform, but it weighs only 2.3 pounds and gets stellar battery life for work or web browsing. It also has a touchscreen and a bunch of useful ports, including HDMI out and USB-A, none of which you'll find on Apple's thin-and-light (ahem). Read our full review. 
[Currently about $1,300 on Amazon.com, but prices fluctuate frequently.]
Best laptop under $500
If this particular model of the Acer Aspire 5 looks familiar, it's probably because it's been sitting atop Amazon's laptop bestseller list for months. It's easy to understand why. This AMD Ryzen 3-powered Aspire 5 packs some enticing features for the price, including a Full-HD 15.6-inch display, a slim-and-trim chassis, and solid performance on everyday computing tasks.
That said, a Windows 10 laptop this inexpensive has its compromises. In this case, we're talking a scant 4GB of RAM and a cramped 128GB solid-state drive, while battery life falls significantly short compared to similar Aspire 5 models that don't cost much more. Read our full review.
[Currently $410 on Amazon, but prices fluctuate frequently.]
Best 14-inch/15-inch workhorse
The Dell XPS 15 9500, an overdue refresh to the company's high-end workhorse, arrives just in time for it to be truly considered the "MacBook Pro killer" it's always aspired to be. Dell gave it a top-to-bottom redesign, including a 16:10 aspect ratio, 15.6-inch panel running 4K+ with HDR400 and Dolby Vision support—and the slenderest of bezels. The result is a stunning all-screen look that is likely to set the style for other laptop makers to emulate. Read our full review.
[$2,254 at Dell.com]
Runner-up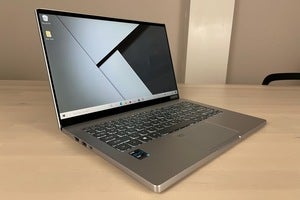 Ben Patterson/IDG
The Porsche Design Acer Book RS is a slim, light, Porsche-branded laptop that, true to its name, nails it in the performance department. Its 11th-gen Intel Tiger Lake CPU tears it up in multicore CPU performance, while the peppy integrated Iris Xe graphics should keep content creators busy.
All this comes without compromising battery life or portability. Even better, the Porsche Design Acer Book RS is priced more like a Honda (well, one of the nicer ones, anyway) than a Porsche 911. Read our full review.
[$1,400 from Acer.com]
Best convertible laptop
Dell's XPS 13 2-in-1 9310 is mostly an evolutionary update to the XPS 13 7390 2-in-1 we reviewed last year, but with one key change. Thanks to Intel's 11th gen Core i7-1165G7 chip, gaming is actually conceivable on this sub-three-pound laptop.
Most other things didn't change, and we have our beefs about the design. But that game-ready performance boost alone makes the XPS 13 2-in-1 special. Read our full review. 
[$1,714 as tested; available on Dell.com]
Best budget convertible laptop
The Lenovo Yoga C740 14 (currently $790 on Lenovo.com) is one of the most impressive 2-in-1 laptops we've seen in its price range. Weighing in at just three pounds and jammed with nifty features, the slim, sturdily built, Yoga C740 packs in plenty of productivity pep, and it can last the whole day without its AC adapter. A bright, Dolby Vision-enabled display plus Dolby Atmos sound provide plenty of eye and ear candy. A physical camera shutter (which, unfortunately, is a little tough to slide open and closed) and a fingerprint reader help to bolster security.
In a world where high-end laptops no one can afford get all the attention, and budget laptops can be a bucket of compromises, it's nice to see a mid-priced laptop that has so much going for it. The Lenovo Yoga C740 easily earns our Editor's Choice award and our top pick for budget convertibles.
[$900 MSRP; $790 as reviewed]
Best 2-in-1 / tablet / hybrid laptop
By naming this Windows tablet the Surface Pro 7+, Microsoft mistakenly implies that it's some sort of minor upgrade from the Surface Pro 7. Nothing could be further from the truth: We rarely see such massive upgrades in CPU and GPU horsepower, as well as battery life. It also offers an LTE option and an absolutely dead-silent, fanless chassis.
A few decisions made us scratch our heads. Why do we have to choose between an integrated microSD slot or the LTE option? Thunderbolt still isn't here, either. But even these flaws really can't mar an exciting leap in performance. This is the best Surface Pro of several generations, and for the moment the best Windows tablet on the market, too.
[$1,650 MRSP as reviewed on Microsoft.com]
Keep reading for our top picks in gaming laptops and more.