Uncategorized
Best Cheap Gaming Laptops that Don't Compromise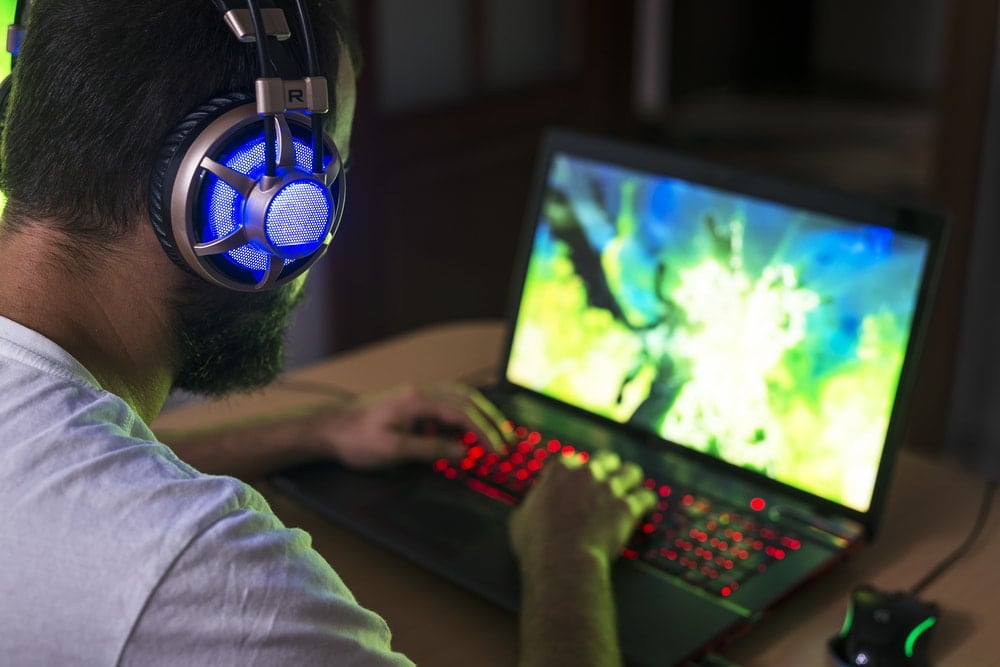 We all love our high-powered gaming desktops. But when you can't take your battle station on the go, you'll need a gaming laptop to get the job done.
Picking a gaming notebook can be as simple as choosing a laptop with a high-end NVIDIA graphics card and the latest-generation Intel processor. However, being on a budget complicates the process. You will have to balance your priorities—splurging on a processor can mean ending up with a lesser graphics card, a beautiful 4k screen might mean a sacrifice in build quality.
After scouring the market, we have come up with a list of the best cheap gaming laptops. These models give you impressive gaming performance for an inexpensive price, maximizing every dollar across all the most important features important for gaming.
Features to Look for in a Cheap Gaming Laptop
Graphics Card
A graphics card is incredibly important. You don't want to limit yourself just because you are on a budget. The essence here is to match your needs to your graphics card. That is, if you are only playing the classics, you can make do with GTX 960M, but they do have significantly lower performance than even the slightly-outdated GTX 1050.
These days, you can pick up something with a GTX 1060 in the budget category, but you will be getting close to the $1000 range. With GTX 1060, you'll be able to run pretty much everything in 2021, although we'd recommend the 6GB version over the 3GB if you can push for it, as it makes a big difference.
Processor
A powerful processor, also known as a CPU, is necessary to run the latest games. A quicker processor will also prevent you from bottlenecking your graphics card. Seventh and eighth-generation Intel core processors are the norm – even for cheap gaming laptops. Typically AMD processors are more suitable for casual games, but in recent years the company has come out with processors competitive with those of industry giant Intel.
Video Memory
Video Memory, named typically in spec sheets as VRAM is important for running games at high resolutions and frame rates. The more the better, but 4GB is a good minimum to shoot for in 2021. To run 4k games, you'll need at least 8GB of VRAM.
Memory
Every gaming setup should have at least 4GB of memory, but 8GB is far superior and well worth the upgrade. The newest RAM-intensive games will require 16GB of RAM. A computer with upgradeable memory, especially in the budget category, is worth considering, as it will allow you to expand capacity as games continue to become more demanding and as your budget grows down the line.
SSD
SSDs have taken over gaming in recent years due to their quick booting and reduced lag. We'd advise at minimum a 256GB SSD, but you could also use a smaller SSD to save a little money. Larger SSDs increase prices significantly. Many laptops place an SSD alongside a slower HDD to create price-sensitive storage.
With these essentials in mind, let's pick up a gaming laptop that will let you frag your enemies or build your empire to your heart's content. We'll start with options under $500, before moving on to options under $1000 a bit later on.
Best Gaming Laptop Under $500
1. Acer Aspire 5 Slim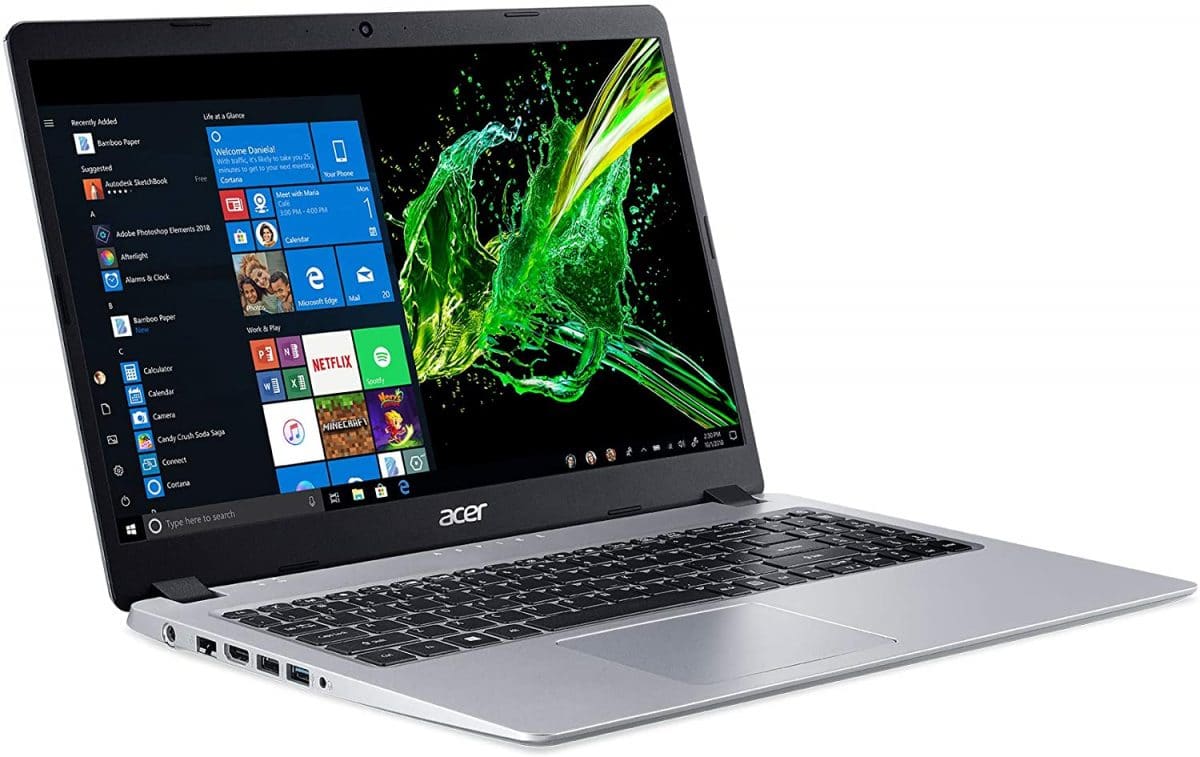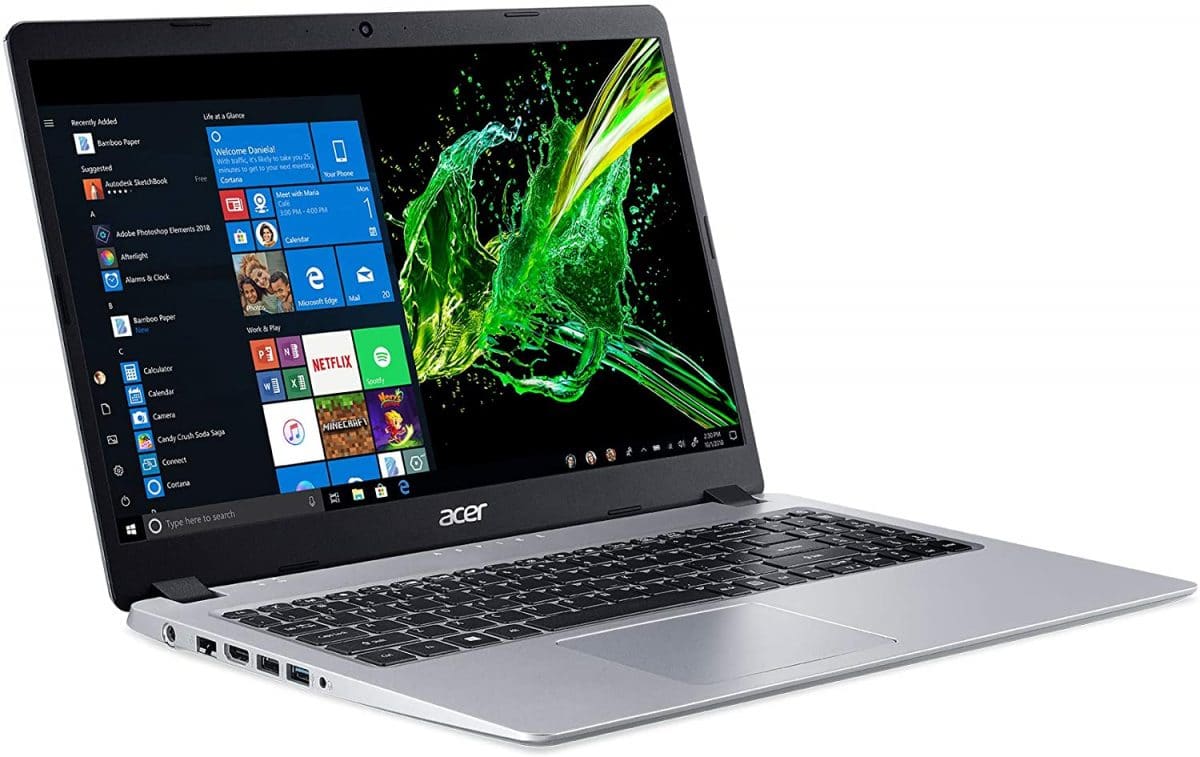 View on Amazon
* Check For Coupons – It's Free! Why we like it: An inexpensive yet powerful notebook gets the job done incredibly well for all but the most demanding games, although you'll need something a bit higher-powered for the best graphics and high frame rates.
Editor's Rating:
Specs
Graphics Card: AMD Radeon Vega 3
Processor: AMD Ryzen 3
RAM: 4GB
SSD: 128GB
Design
While the Acer Aspire 5 Slim is available at the ultra-inexpensive sub-$400 price point, it does look the part. The slim notebook is not only powerful, but lightweight as well, stowing away almost unnoticeably with a tight form factor, expensive-looking finishes, and a sub-four-pound weight.
Both small and cheap, the Acer Aspire 5 completes the holy trinity with excellent performance. An AMD Ryzen 3 chipset perhaps isn't as impressive as the newest-generation Intel CPUs, but one of those is more expensive than this entire laptop. Four gigabytes of RAM and 128 gigabytes of SSD space are also low for the category, but again, still noteworthy considering that this laptop is cheaper than designer shoes.
Convenient Features
The stock RAM is minimal, if not inadequate, but it is upgradeable. If you're planning on running more intense games, we'd definitely recommend the upgrade, and the RAM in this can be raised from 4GB to 16GB simply and inexpensively.
The speaker and screen are both quite impressive for the price range, although nothing special compared to more expensive versions. Nonetheless, each and every component on this laptop is quite impressive. For less than the price of an iPhone, you can buy this gaming-ready laptop.
Overall
Overall, this is simply the least expensive laptop that can play today's games. No, it's not incredibly powerful, no it doesn't have the greatest features or the best specs, but it's a laptop for well under $400 that can chug along with the newest titles, and for that reason alone it earns our respect.
Pros
Hyper-inexpensive notebook can play most of the latest games
Impressive speaker and screen for the price
Gaming-ready with AMD Ryzen 3 CPU
Decent AMD Radeon Vega 3 graphics card
Cons
Small-ish SSD and not much RAM
2. HP 15.6-Inch Gaming Laptop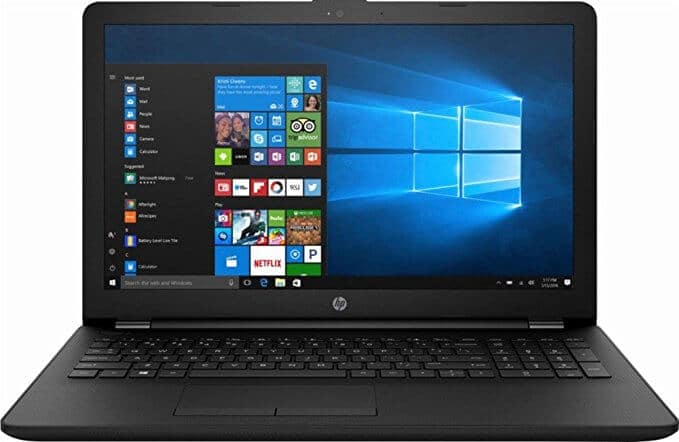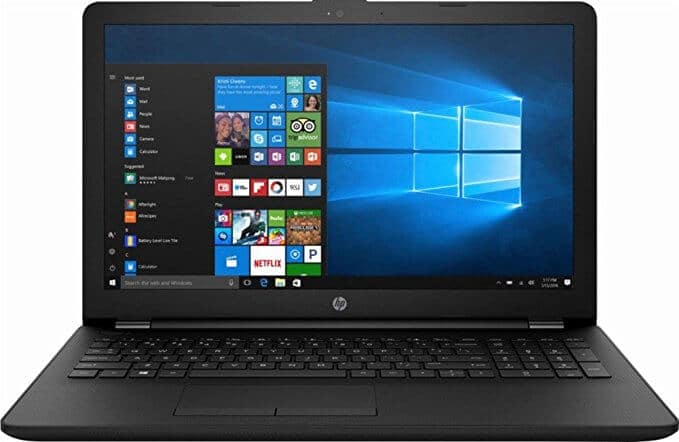 View on Amazon
* Check For Coupons – It's Free! Why we like it: Although most variations of the laptop are a touch more expensive than $500, with this model HP produces an incredibly economical yet powerful gaming laptop with a large HDD, a solid processor, and great graphics specs.
Editor's Rating:
Specs
Graphics Card: AMD Radeon R4
Processor: AMD Quad-Core A6
RAM: 4GB
SSD: 500GB (HDD)
Design
A decent gaming laptop under $500 is tricky to find, but HP makes a solid offering for the category with a laptop that is a good size and has decent color visuals. With an AMD Quad-core A6-7310 APU, this laptop can manage base speeds of 2GHz but it can turbo to 2.4GHz.
This puts the processor at par with most entry-level Intel processors. The CPU handles the AMD Radeon R4 graphics card which then drives the visuals for immersive gaming. For most games, you'll probably have to run at 'low' or 'medium' settings.
4GB of RAM provide effective management of multitasking users to run casual games alongside web browsing. The laptop can handle several programs smoothly so you should not expect any delays when playing titles that will come with your Windows 10 OS.
The built-in speakers have surprisingly good sound. Although you may want to use headphones while gaming; the speakers give you excellent sound for movies and music videos. We like that it has shared video memory to ensure you get solid visuals on your preferred games.
Convenient Features
Connectivity with this laptop is great considering its price tag. You have a USB 3.0 for high-speed devices alongside two USB 2.0 ports. It also comes with HDMI output, headphone jack, microphone jack, and it has an SD memory card slot. If you don't mind 2.4Ghz wireless connectivity, you will be impressed that the notebook supports 802.11n WiFi.
Overall
While this laptop ends up at slightly over $500 in most configurations, it is worth the extra few dollars if you're looking to maximize specs and minimize price. If you're looking for the least expensive playable laptop, we'd still recommend the Acer Aspire 5.
Pros
Integrates an AMD processor and AMD Radeon R4 graphics for seamless performance
Long battery life
High-quality build with exceptional
A wide variety of connectivity ports
Cons
Can't run graphics-intensive games at high frame rates
Slightly over $500
3. Lenovo Ideapad 15ABR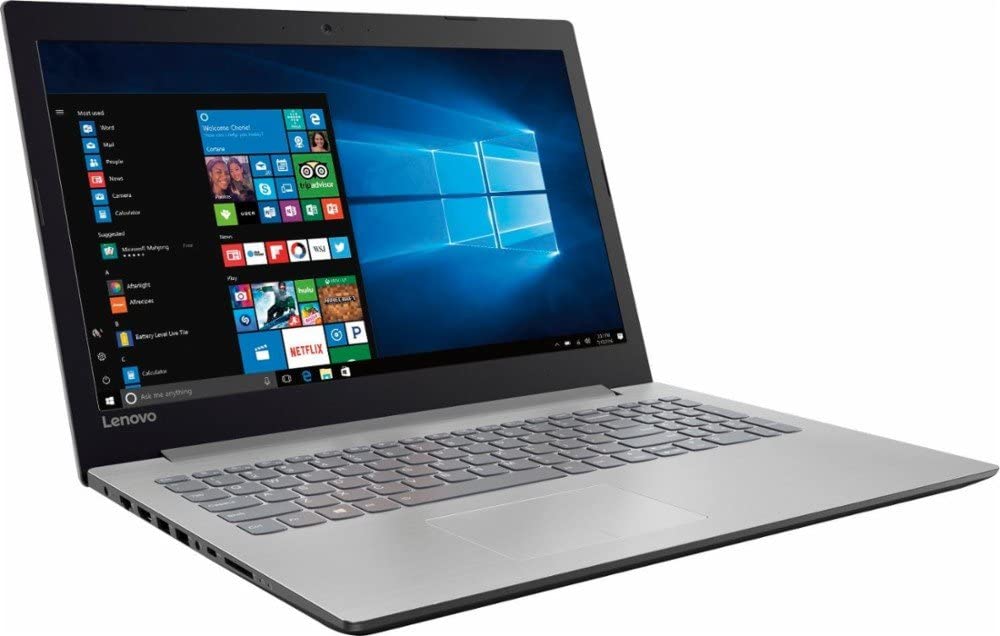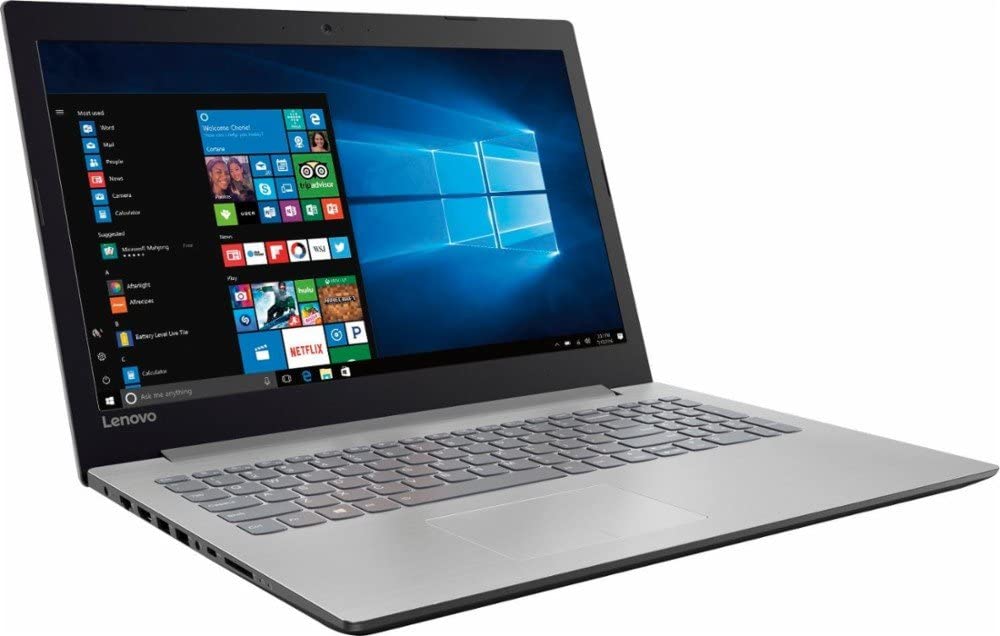 View on Amazon
* Check For Coupons – It's Free! Why we like it: A terabyte of storage, a solid AMD processor, and a solid-feeling build quality make this a good sub-$500 pick for gaming, although it's missing an SSD.
Editor's Rating:
Specs
Graphics Card: AMD Radeon R7
Processor: AMD A12-9720P
RAM: 8GB
SSD: 1TB (HDD)
Design
While most sub-$500 laptops, especially those capable of gaming, feel plasticky and trashy, the Lenovo Ideapad maintains a premium feel with a modern-looking setup, a responsive keyboard, and a 15-inch WLED backlit display. In fact, you can see that it takes some design cues from more expensive Lenovo gaming computers like it's hyper-powered big brother, the Lenovo L340.
Processing and graphics both come via AMD, with a decent AMD A12-9720P processor helped along by a Radeon R7 graphics card. It has fantastic storage capacity too, with a one terabyte HDD, something that isn't seen often at this price point. The only shame is the lack of SSD, and we can't help but feel that the money spent on the HDD would be better spent on an SSD – even a small one. For gaming, it would certainly aid load times, which can be sluggish.
Convenient Features
Without a doubt, the most convenient performance feature on this laptop is its phenomenal storage space—an entire terabyte can hold your game library, movie collection, or anything else you might want to save.
The laptop's five-pound construction certainly isn't featherweight, but with a thin form factor and a durable case, it's easy enough to transport around. A great keyboard provides tactile feedback, a decent touchpad is fine for web browsing, and in general, the laptop looks clean and minimalistic.
Overall
All in all, the Lenovo Ideapad 15ABR is a phenomenal budget pick for anyone shopping in the sub-$500 price point. It has great specs with 8gb of RAM and a full terabyte hard drive, but we wish the computer had an SSD as well. Although it has a slightly higher price tag than the Aspire 5, it does have better overall performance.
Pros
Minimalistic, modern design
AMD Radeon R7 chipset with AMD A12-9720 Processor
Full terabyte HDD
15-inch backlit LED screen
Cons
Lacks SSD for fast loading of games
Best Cheap Gaming Laptop Under $1000
1. Lenovo Ideapad L340 Gaming Laptop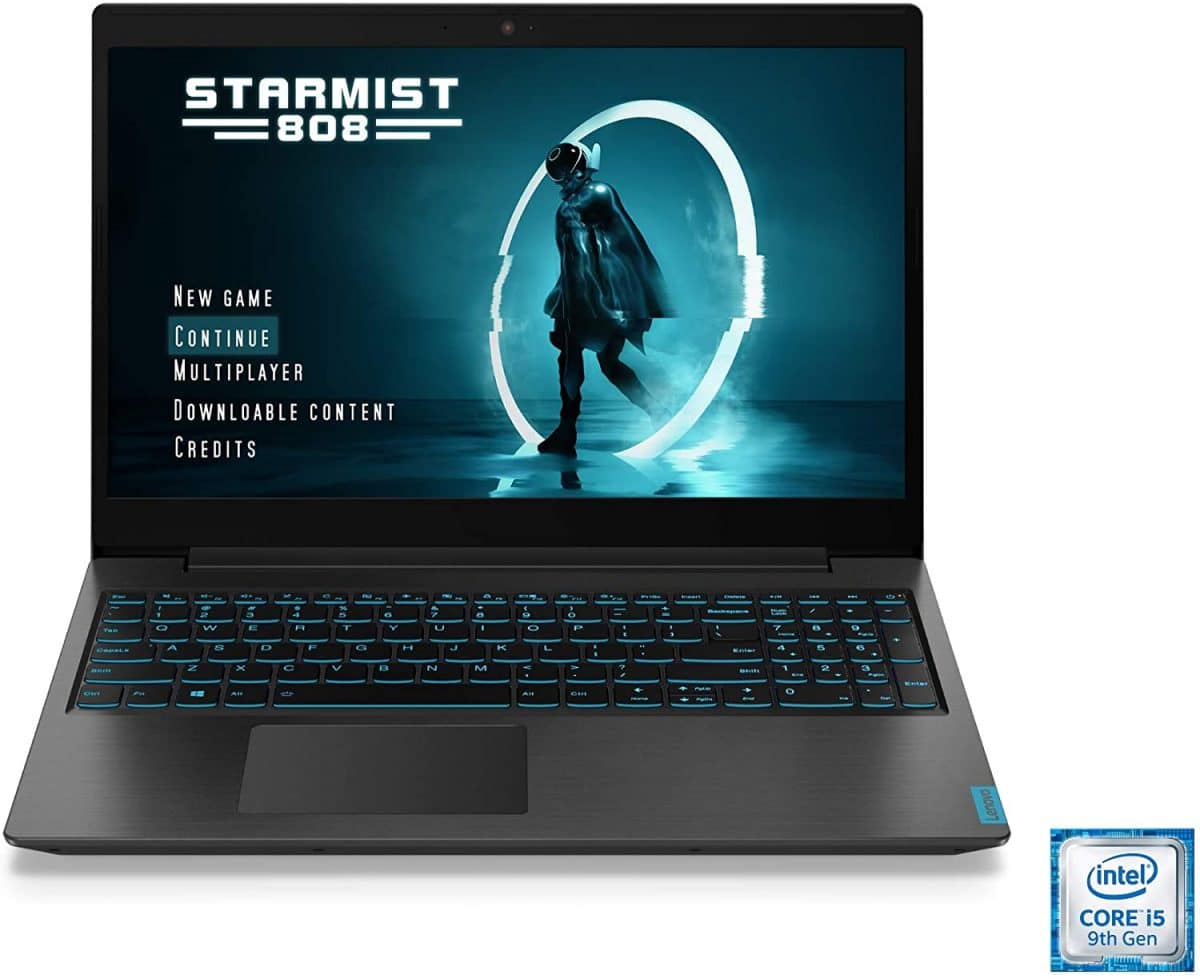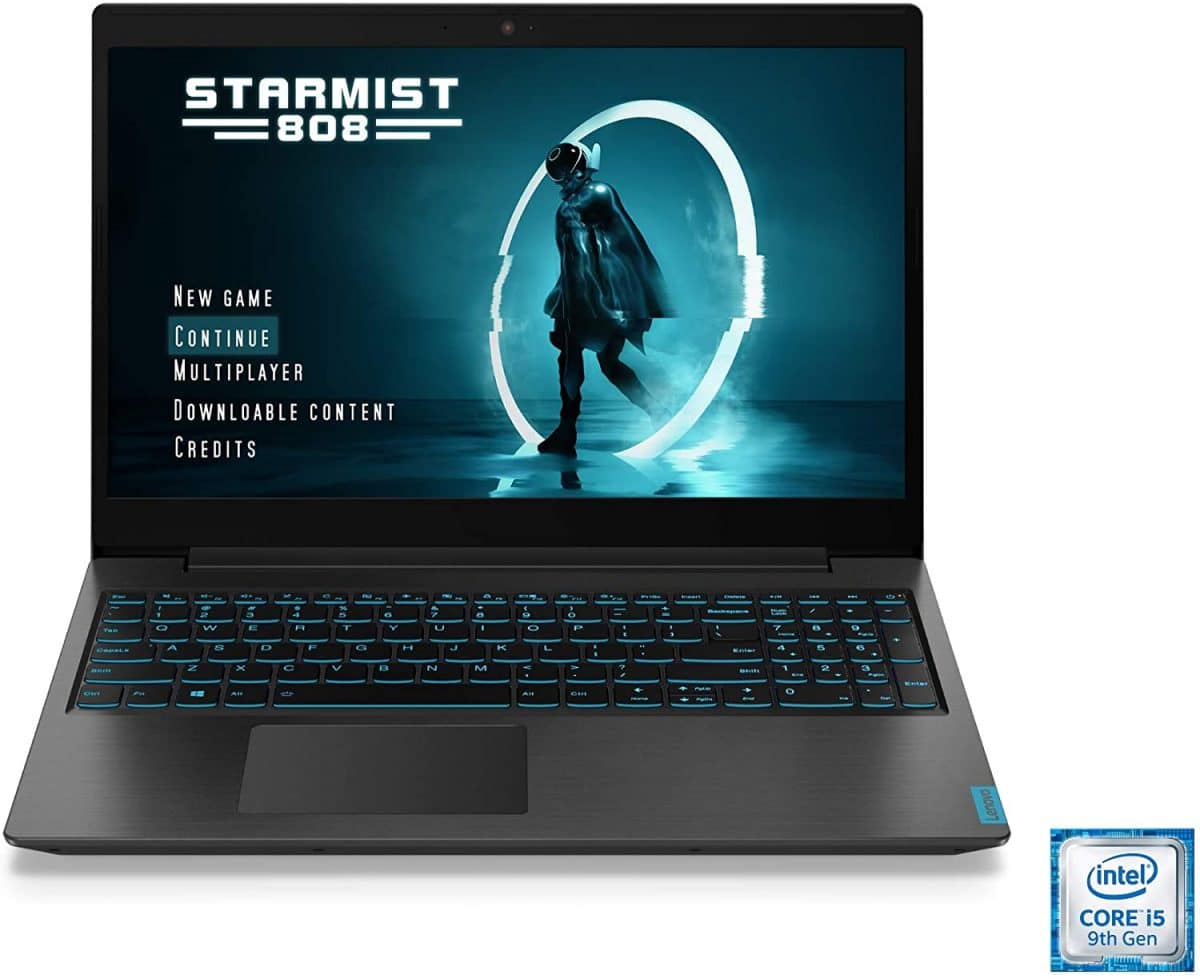 View on Amazon
* Check For Coupons – It's Free! Why we like it: 512 gigabytes of SSD memory load games instantaneously while excellent processing and graphics permit the best gaming experience at a price point well under $1000.
Editor's Rating:
Specs
Graphics Card: NVIDIA GeForce GTX 1650
Processor: Intel Core i5
RAM: 8GB
SSD: 512GB
Design
With powerful components, excellent build quality, and great attention to detail, the Lenovo L340 is a laptop that beats out twice-as-expensive laptops in gaming capability. The latest generation WiFi capability means that online gaming takes place with minimal lag and load times.
A 7th Gen Core i5 processor permits lighting fast boot-up times and speedy-in game commands. Eight gigabytes of RAM come in handy to improve gaming and web performance. Complemented by 512GB of SSD memory, the computer can also be customized to add in a 2TB HDD, enough to hold your entire gaming collection on one laptop.
Dolby sound is hardwired into the notebook, so even if you forget your headset, you'll be able to enjoy incredible sound quality that rivals auxiliary speakers. An NVIDIA GeForce GTX 1650 graphics card takes care of image processing, an incredible perk at this price point.
Convenient Features
To keep your system cool, Lenovo Ideapad L340 is engineered with fans and vents that are in close proximity to the processor and the graphics card. This results in faster heat dissipation which leaves your laptop cool and performing effectively game after game.
You can game at night or in low-lit rooms thanks to the blue-backlit keyboard, although it can be a bit bright for some. The keyboard has fast key actuation which results in great tactile feedback. With only 1.7mm travel distance, each press assures accurate keystrokes to give you an edge in fast-paced action games.
Two modes of operation help the computer to operate to your liking: quick mode and quiet mode. Flip a switch instantly to go from casual, silent web browsing to powerful, optimized gaming performance.
Verdict
The L340 is simply the best gaming laptop under $1000.
Pros
Great graphic performance with an NVIDIA GeForce GTX 1650
Smooth gaming with a powerful processor
Large storage capacity
Dolby sound rivals even auxiliary sound systems
Cons
Some gamers don't love the blue-backlit keyboard.
2. Asus TUF FX505DT Gaming Laptop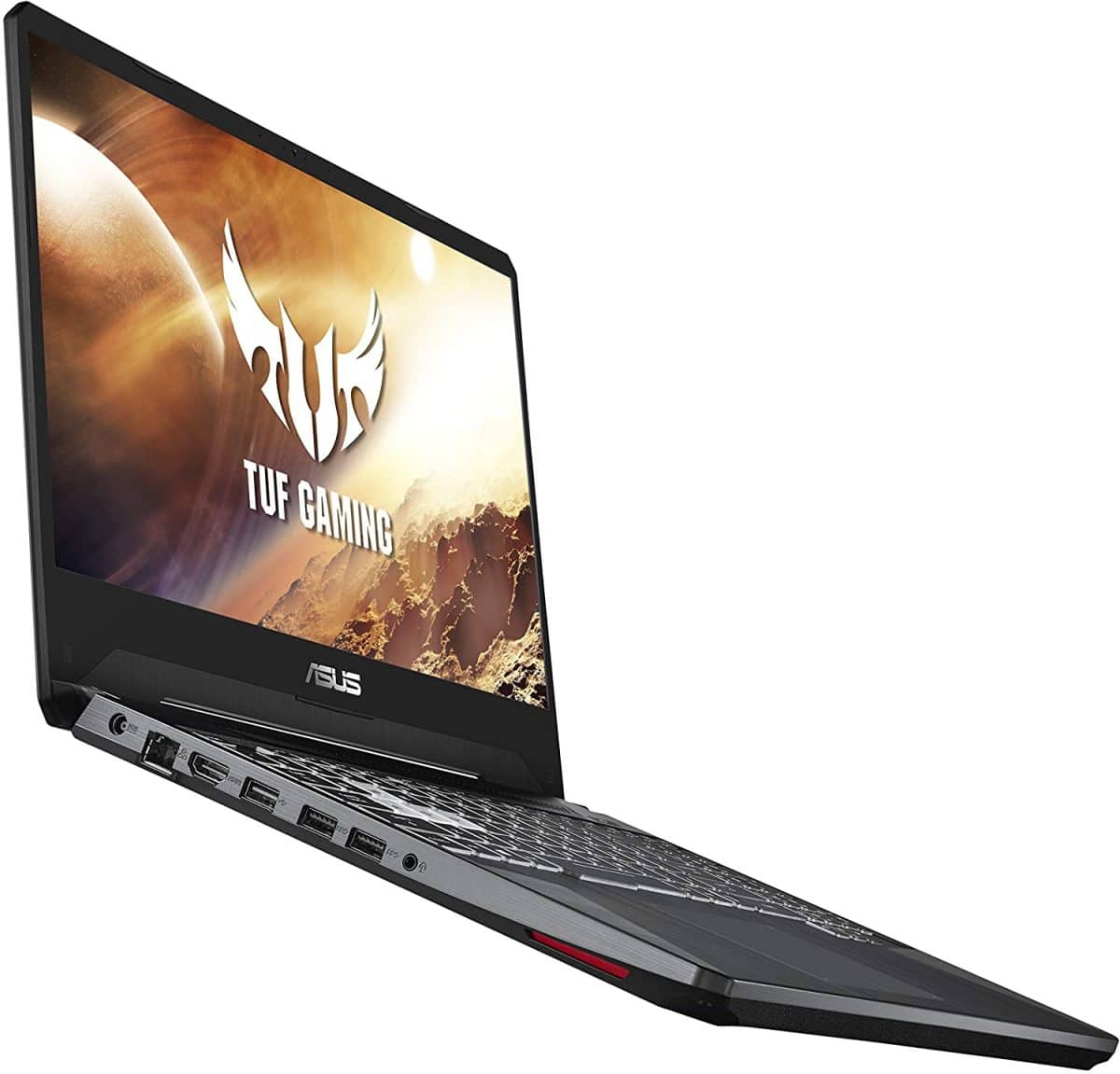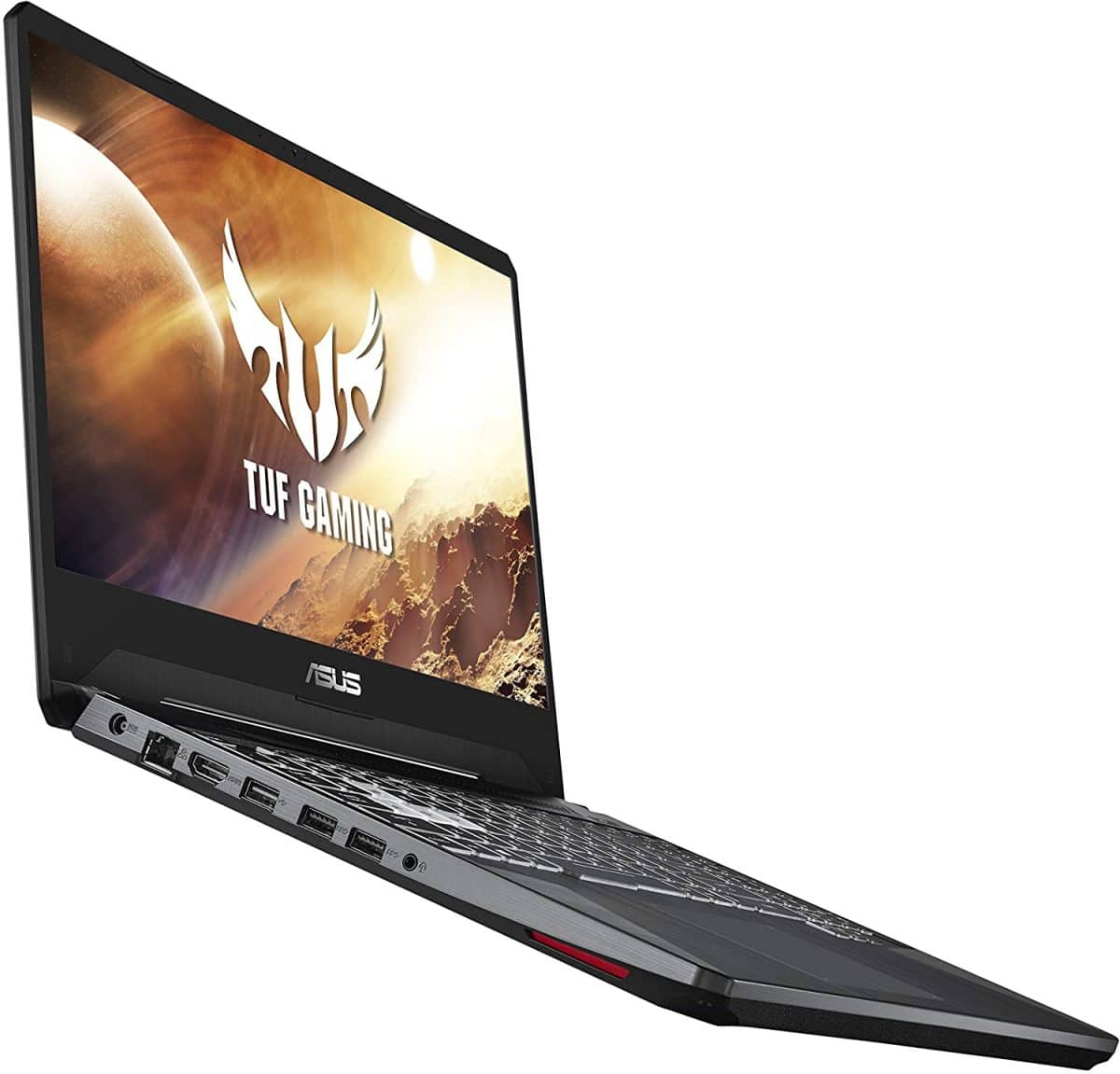 View on Amazon
* Check For Coupons – It's Free! Why we like it: A built-to-last gaming notebook combines great build quality and great specs. A powerful graphics card and processor sit alongside other hardware that makes this laptop quick and perfectly capable for hard-traveling gamers.
Editor's Rating:
Specs
Graphics Card: NVIDIA GeForce GTX 1650
Processor: AMD Ryzen 5
RAM: 8GB
SSD: 256GB
Design
ASUS TUF FX504 is an inexpensive gaming laptop that can compete with even mid-level desktop battle stations. It can render games at capable frame rates. Games like The Last of Us: Part 2 can run at 42fps thanks to the NVIDIA GeForce GTX 1650 graphics card – much quicker than other laptops at this price.
The machine just feels quick, from boot up to shut down. 8GB of RAM can handle almost everything at lower settings. A 256GB SSD is uncommon at this price point, while the AMD Ryzen 5 is a proven processor for this price point, clocking up to 3.9 GHz.
This laptop excels in audio with loud, high-quality speakers. You can hear every detail in a game, even when you are playing in a large room. This is especially great for quick online gaming where you need to listen to your teammates as well as keep tabs on what is happening amidst the chaos.
Convenient Features
The durability specs on this device are all about the active dust management and thermal design. It remains cool on light loads and only slightly heats up when you start gaming intensely. A reinforced build design and case allow you to pop it into a backpack or laptop bag without worrying too much. The keyboard is guaranteed to last to a mind-boggling 20 million keystrokes.
ASUS' Splendid Utility user interface allows you to adjust the screen's color temperature to suit your gaming lighting at night. As for connectivity, this laptop provides you with two USB 3.0 ports, one USB 2.0 port, an Ethernet jack, a power jack, HDMI output, and a headphone jack. It also has a Kensington lock slot.
Overall
If durability is one of the key features you are looking for in a gaming laptop, ASUS TUF FX504 has your back. The advanced thermal design alongside active dust management provides you with a cool and clean system for smooth performance throughout its life, but ASUS doesn't skimp on components just to create an ultra-durable package.
Pros
Processor clock speeds up to 3.9GHz
GeForce GTX 1650 provides smooth gaming
8th gen processor gives you fluid multitasking
20-million keystroke durability with scissor switches
Anti-dust technology and dual fans for cooling
Cons
8GB of RAM is adequate, but could be more for the newest games
3. Acer Predator Helios 300 Gaming Laptop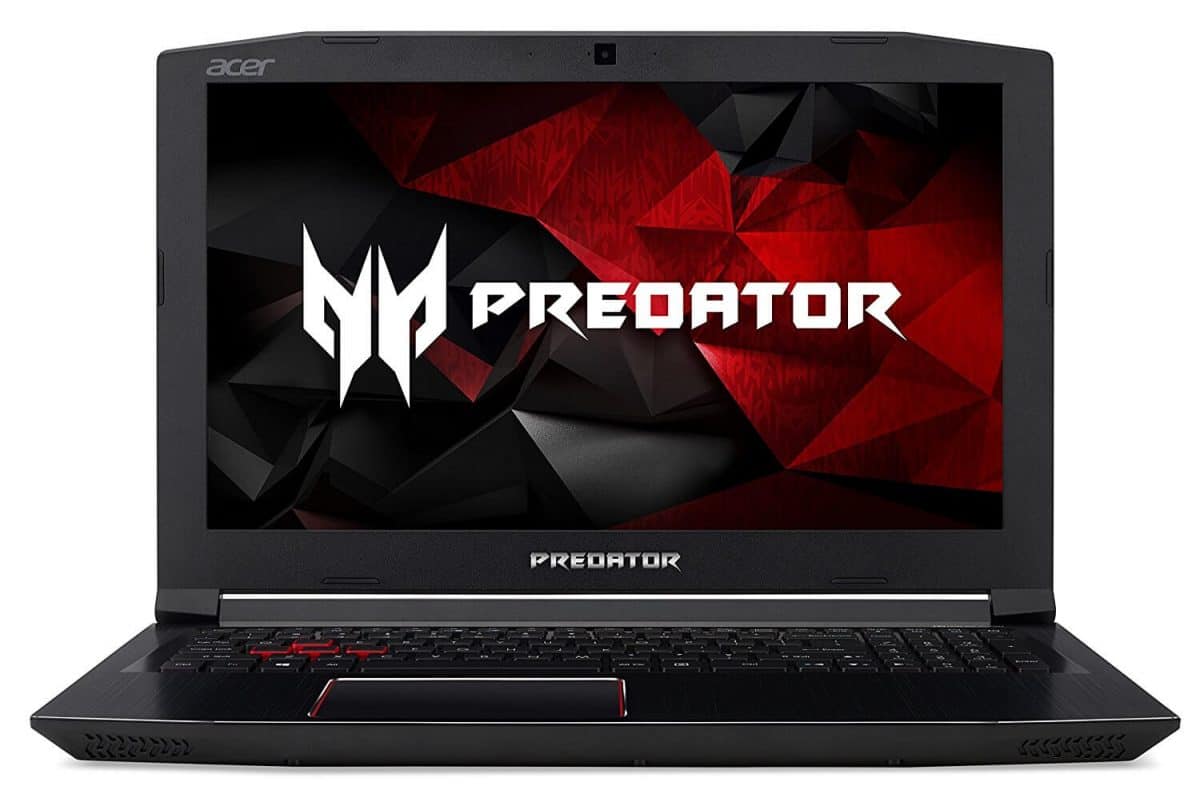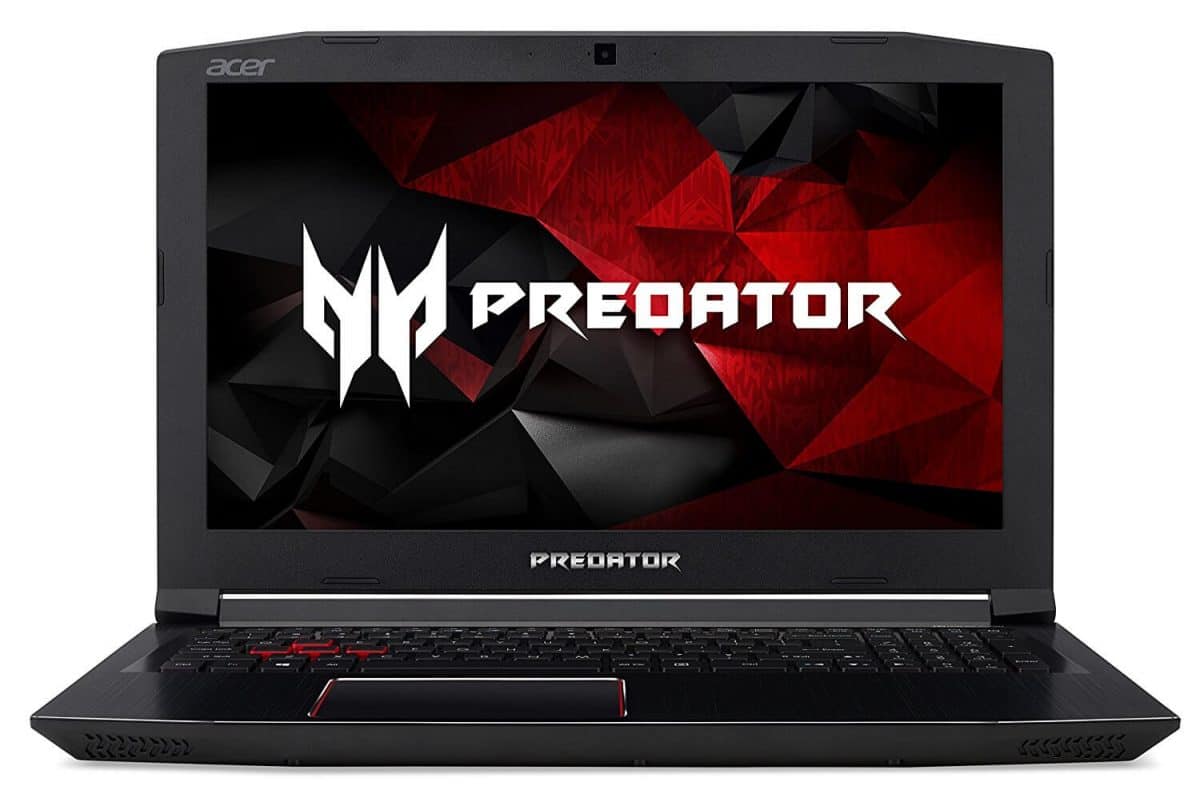 Why we like it: This gaming laptop strikes a balance between affordability and beefy performance. It has all the great features to look forward to in a notebook designed for extensive gaming.
Editor's Rating:
Specs
Graphics Card: NVIDIA GeForce GTX 1060
Processor: Intel Core i7
RAM: 16GB
SSD: 256GB
Design
Acer Predator Helios 300 is the absolute latest in gaming technology. Although it's a bit more expensive than our $1000 price limit, a host of expensive components in a budget-oriented package earn it a spot on our list. Its performance is over the top thanks to the 7th Gen Intel Core i7-7700HQ processor. This processor is the wheels behind the fast speeds and support for the latest graphics card.
With NVIDIA's GeForce GTX 1060 with 6GB DDR5 VRAM, you are ready for a memorable gaming experience. It can crunch through all modern titles from Dynasty Warriors to God of War and Battlefield V. You can bet on it to bring you more wins and rewards if you are into competitive gaming.
The good thing about this gaming laptop is that you can take it to gaming competitions if you're supposed to bring your rig but are unable to. It has a 15.6-inch screen which is among the largest gaming laptops come in. It also has Full HD (1090 x 1080 pixels) resolution meaning all your games will have excellent color fidelity. It has no glare, and you can use it outdoors.
Convenient Features
This laptop comes with the PredatorSense gaming control panel. It lets you into a world of customized gaming settings which include personalized gaming features, controls for the system fan speed, CPU fan speed, and the system temperature.
The iron-lit keyboard is also designed for gaming since it is highly responsive with significant tactile feedback. It can sync with predator accessories such that you only need one piece of software to allocate profiles to your games as well as create macros for your games.
Bottom Line
A budget-friendly but more-expensive option crams the latest components into a slim package. Complete with intuitive gaming features, the Acer Helios is specifically designed as a portable battle station. If you are on a bit of a budget and are not willing to make any compromises, this is the gaming laptop for you.
Pros
Powerful i7 processor
It uses the latest Nvidia graphics card
It has dual cooling fans
Slim chassis is ready to go anywhere
Latest and greatest components
Cons
The battery drains fast when gaming
4. Acer Nitro 5 Gaming Laptop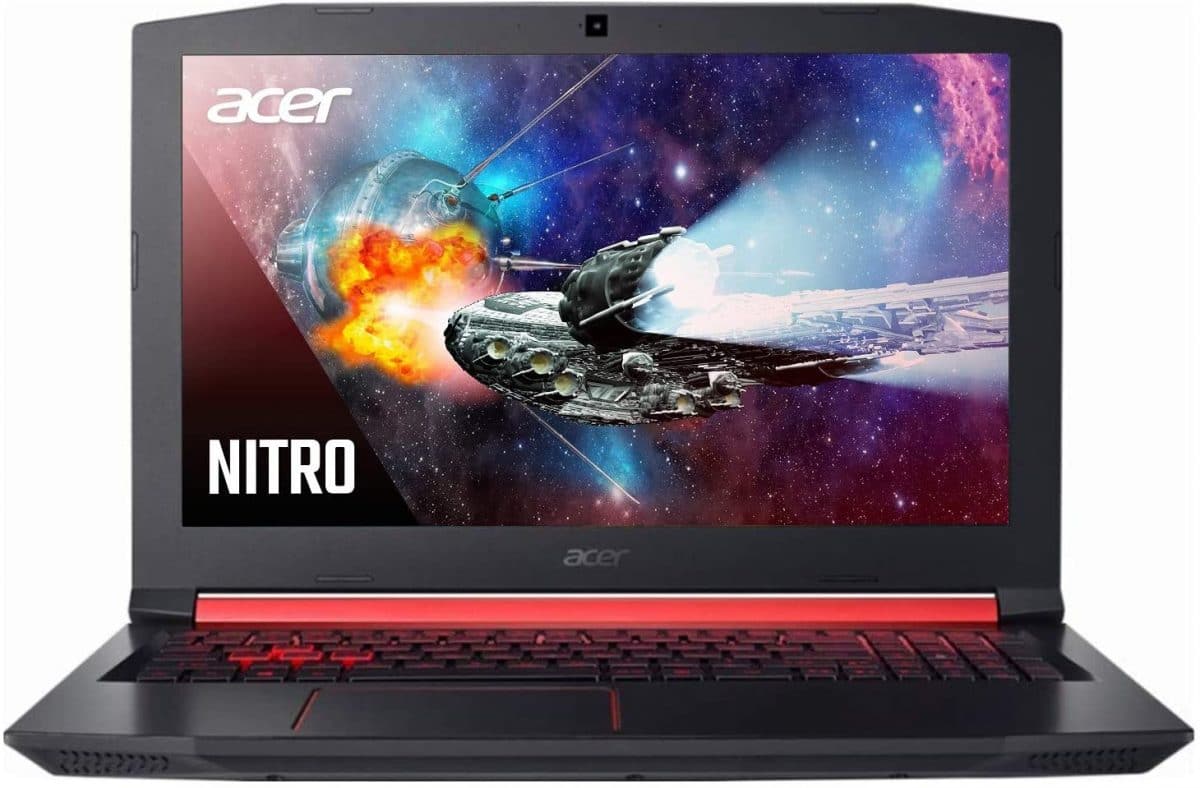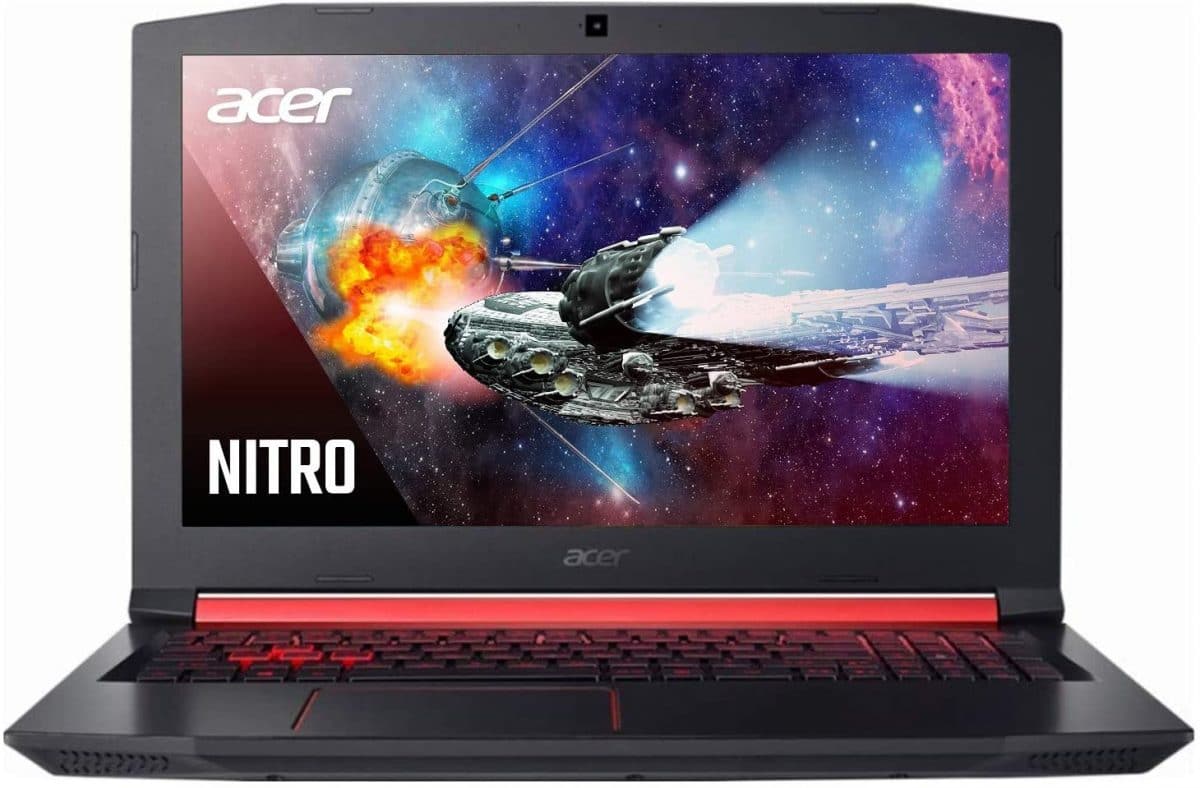 Why we like it: The Acer Nitro 5 displays games in the highest-quality setting while managing to maintain a slim profile focusing on gaming speed and build quality over pristine graphics.
Editor's Rating:
Specs
Graphics Card: AMD Radeon RX 560x
Processor: AMD Ryzen 5
RAM: 8GB
SSD: 256GB
Design
When you first hold the Acer Nitro 5 in your hands, it's not easy to tell that it's a budget computer. The case has a brushed metal finish which will not attract fingerprints. An attractive design incorporates red accents into the large-format gaming computer.
This notebook is in close competition with the Lenovo Ideapad in terms of the build quality and component selection. When it comes to gaming performance, this laptop uses NVIDIA GeForce GTX 1050Ti. It is not the highest performing for modern games, but it will get through most titles that do not demand extraordinary power from the GPU.
The AMD Radeon RX 560x is good for medium quality graphics at up to 1080p resolutions. It also favors every gamer who wants a laptop to use for everyday office and business work. This is because it promises consistent gaming with a wide variety of games.
Convenient Features
This laptop gives you a good compromise between the battery power and the processor. If you want to retain both and enjoy most games, you will want to consider this notebook. With the i7-7700HQ it has a base clock speed of up to 2.8Ghz and it can turbo from 3.4-3.8Ghz. It showcases up to 10% better performance than notebooks with an i7-6700HQ core.
Acer Nitro 5 also has a CoolBoost Function. When turned on, the fans can work faster and at higher speeds to facilitate speedier cooling. By keeping your system at the ideal temperature, you can game for longer at impressive speeds. The battery isn't removable.
Bottom Line
The Acer Nitro 5 performs well as an everyday computer as well as for playing computer games. It has a decent keyboard and color reproduction, but it won't give you room to expand its possibilities.
Pros
Sleek and elegant design
Three Type-A USB ports and one Type-C port
Ports are on the back to eliminate cables coming from the side
Solid processor
Brushed metal case design
Cons
The battery on this laptop is not removable
5. Dell Inspiron 15 Gaming Laptop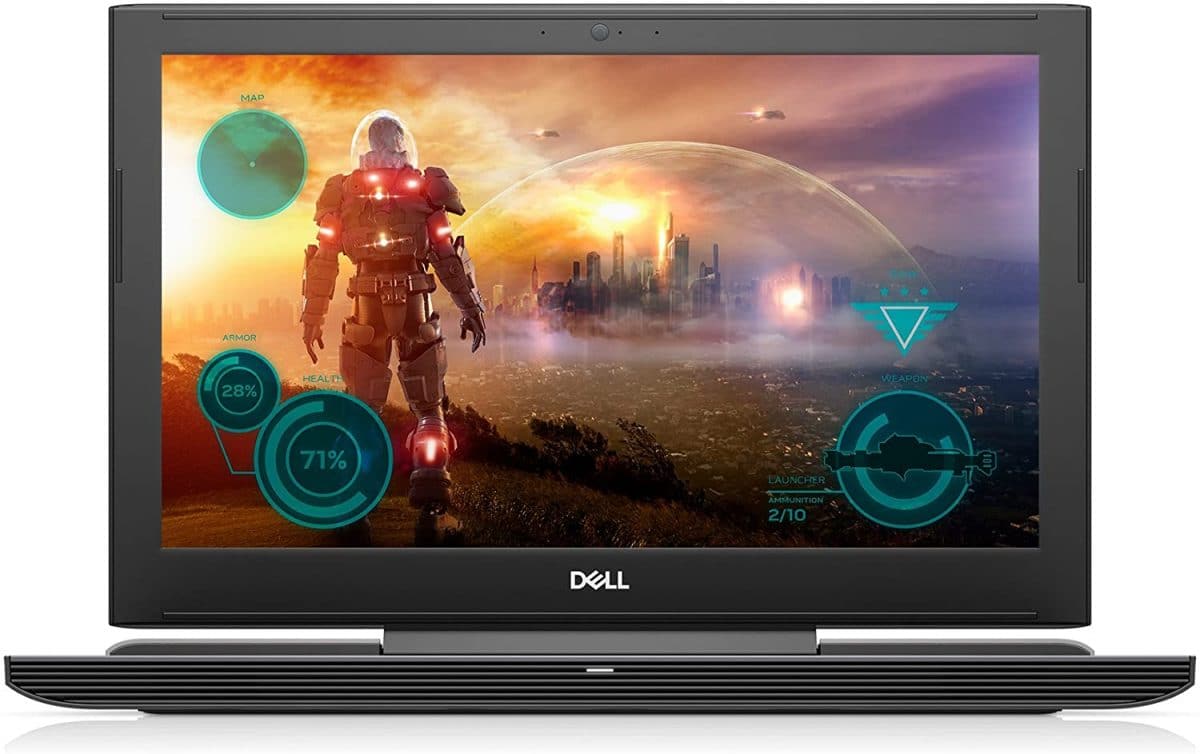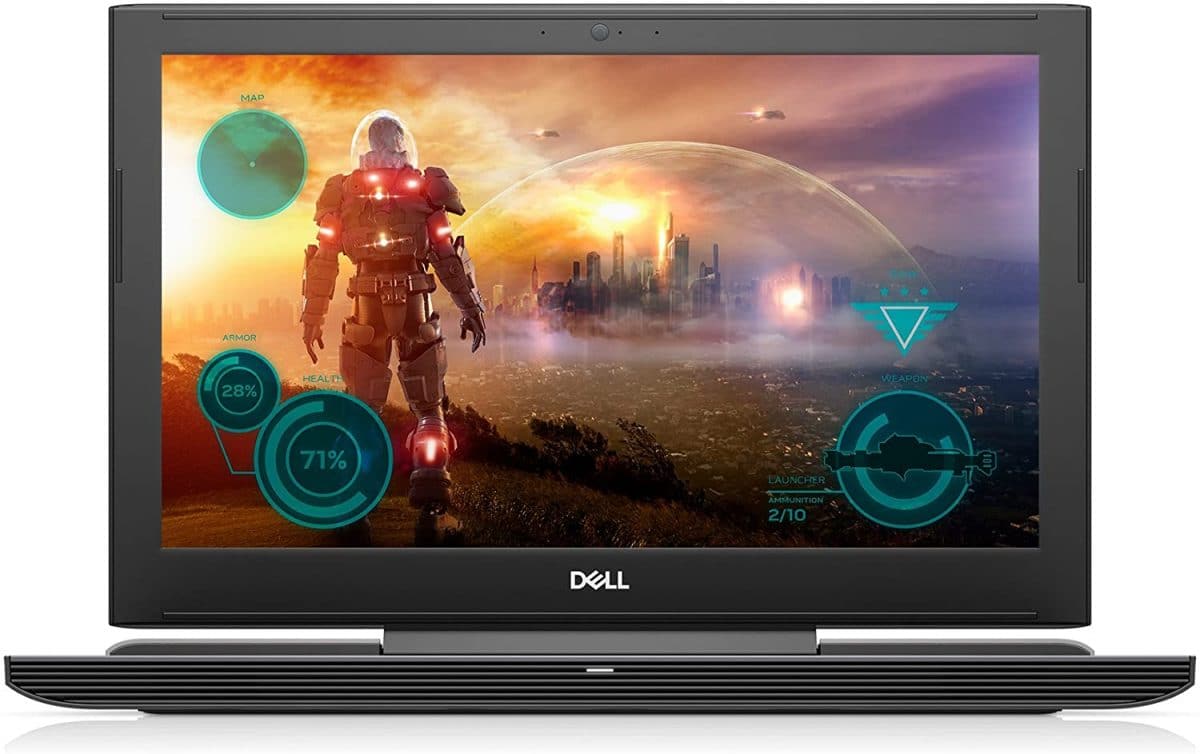 Why we like it: The Dell Inspiron 15 offers powerful gaming via NVIDIA's GeForce GTX 960M and Intel's quad-core i5 processor. The highly-specced machine is inexpensive compared to peers.
Editor's Rating:
Specs
Graphics Card: NVIDIA GTX 1060
Processor: Intel Core i5
RAM: 8 GB
SSD: 128GB (plus 1TB HDD)
Design
Dell's Inspiron 15 does not have all the gaming bells and whistles in terms of aesthetics, but it packs a punch in terms of performance. With the 6th Gen Intel i5 Quad-Core processor, this gaming notebook is quick enough, although might have trouble with processor-intensive games. Complementing the CPU is the NVIDIA GeForce GTX 1060, which is a bit underpowered for 2021, although adequate.
You can count on this graphics card to give you reliable frame rates that get rid of choppy images and smooth gaming performance, although you might need to run the latest games at lower settings for maximum performance. At 1920 x 1080 pixels, the screen provides crisp, clear images and excellent contrast. This ensures that you do not miss an opponent in the shadows.
Dell uses their revolutionary cooling technology in providing the right gaming environment with this laptop. At the highest performance, it can overclock to 3.2GHz which can heat up your notebook and cause lag. Dell counters heating problems by using three exhausts with three large vents with 240 thermal pins, and two fans for cooling. Good specs are countered by a slightly cheesy looking build with a plasticky feel and an inexpensive, dull-feeling keyboard.
Convenient Features
No one likes to game with poor audio quality. This Dell has Waves MaxAudio Pro which is a software that runs the best audio in high-performance speakers. It also includes a subwoofer so that you can bring in a cinematic theme in your gaming room.
At only 15.6 inches wide with a slim construction, this gaming laptop is ultra-portable. Pack it up and bring your favorite titles on the go. Better still, it has an incredible battery life of over 10 hours. Although you may see a reduced battery with extensive gaming that taxes your GPU, the lithium-polymer battery is well equipped for longer gaming sessions.
Overall
Dell explores portability and convenience to give you a highly functional gaming notebook. It has decent graphics, excellent resolution, and a 6th Gen quad-core processor to run modern titles.
Pros
NVIDIA GeForce GTX 1060M graphics card
128GB SSD and 8GB DDR4 RAM
It has a slim profile for maximum portability
10-plus hours of battery life
Innovative and effective cooling setup
Cons
Plastic construction feels a little cheap for an almost-$1000 notebook
Dull keyboard
6. MSI GF62M 7REX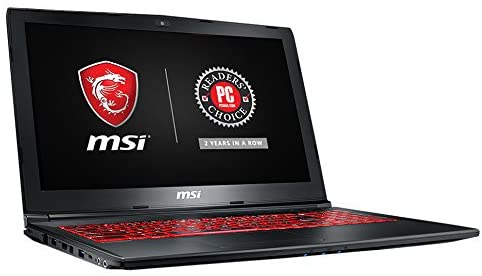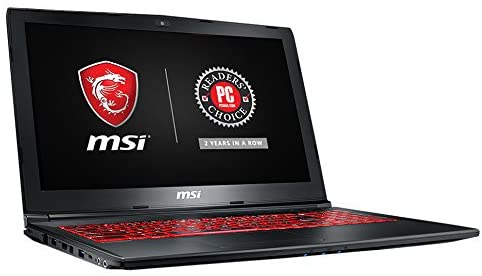 Why we like it: A rig from niche-manufacturer MSI is capable for nearly any game and can handle high graphics settings. A powerful processor, eight gigabytes of RAM, and a terabyte of HDD space make this one of the best-for-graphics laptops in our lineup.
Editor's Rating:
Specs
Graphics Card: NVIDIA GeForce GTX 1050Ti
Processor: Intel Core i7-7700HQ
RAM: 8GB
SSD: 128GB (plus 1TB HDD)
Design
When you want a laptop with great gaming features on a budget, MSI GL62M 7REX is a winner. It comes with a super-advanced graphics card, NVIDIA's GeForce GTX 1050Ti, which packs four gigs of DDR5 RAM. This model is slightly over $1000, but it's such good value we decided to include it anyway.
An Intel Core i7-7700HQ processor powers this laptop. With 8GB RAM, you will not have any problems playing Overwatch while still having opened multiple tabs on your internet browser. Multitask-ready and quick enough to not throttle visually-demanding games, you can play games at high graphics settings with this notebook.
Convenient Features
The MSI 7REX is equipped with a gaming style keyboard. It has 72g actuation, and the keys travel 1.5mm. It's not our favorite keyboard, nor does the computer have the best case in our lineup, but for those looking to play the most visually demanding games on high settings, it's a good pick.
With full HD resolution, 7REX utilizes an NTSC panel to give you a deeper range of colors. Your games will feel more real as characters will not be hiding in the shadows or you miss a shot because of a dull background. Complemented by Cooler Boost Technology, the laptop has seven heat-distribution pipes to keep your system cool.
Verdict
For game fanatics focused on a visual experience, this is a great option. A decent processor backs up the 1050Ti graphics card, and a deeply-colored screen improves the immersive gaming experience. Our only complaint is the less-than-stellar keyboard.
Pros
Runs the highest visual settings on the latest games
Innovative seven-pipe cooling technology keeps processors functioning optimally
Powerful NVIDIA GeForce GTX 1050Ti
Nahimic 3D surround sound
Full HD screen resolution
Cons
Not our favorite keyboard
Other laptops have better cases
7. Dell G5 15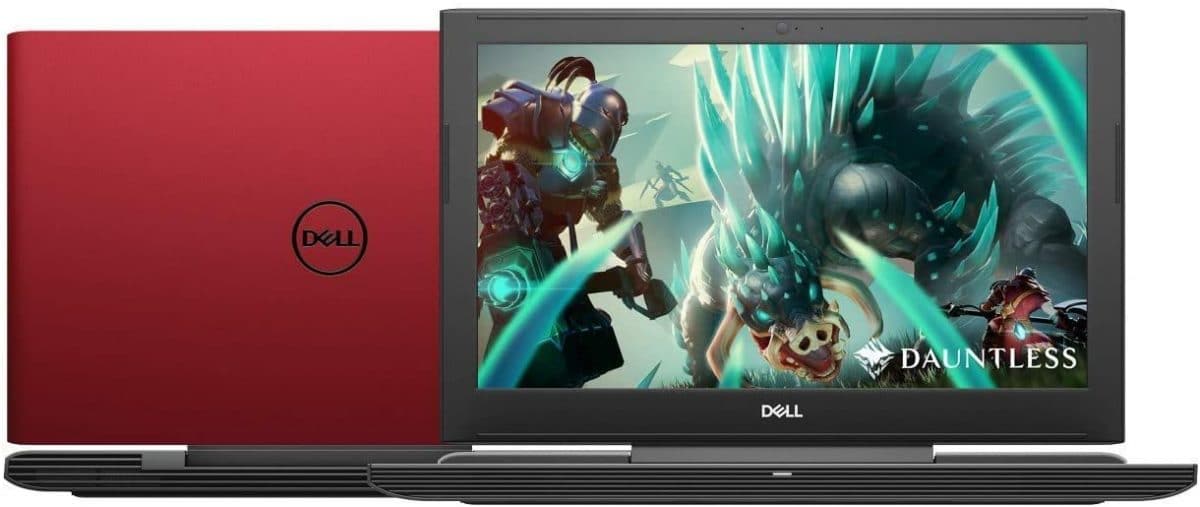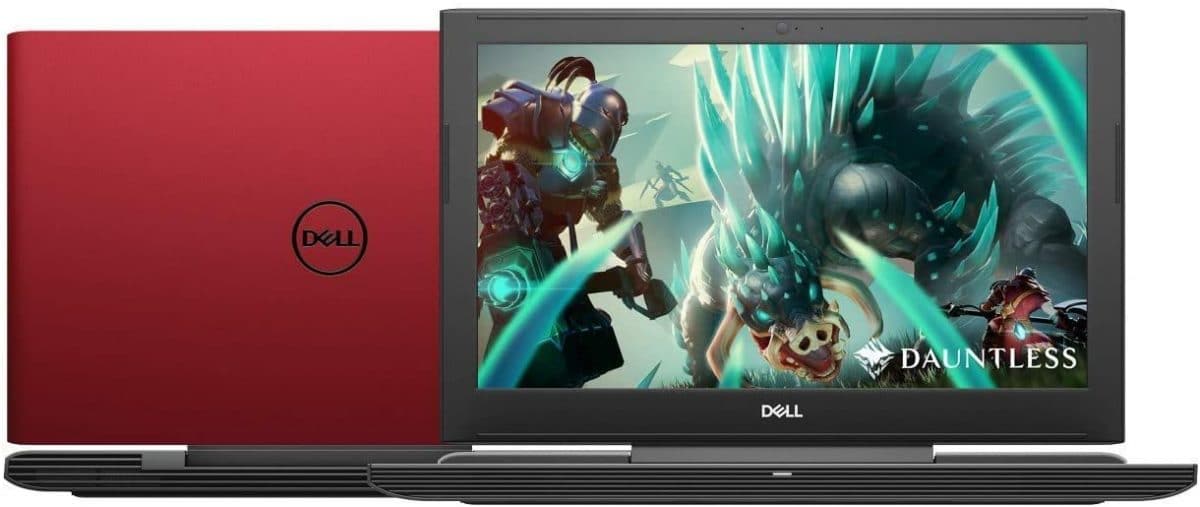 Why we like it: Dell makes every dollar count with this quality laptop that's crammed with high-end parts usually only found in pricier machines.
Editor's Rating:
Specs
Graphics Card: NVIDIA GTX 1050Ti
Processor: Intel Quad-Core i7-8750H
RAM: 16GB
SSD: 256GB (plus 1TB HDD)
Design
Released originally in 2019, the designers of the G5 proved to be remarkably insightful about gaming trends, as this notebook remains well equipped into 2021 and should be equipped to run most 2021 titles on high settings. Only several years from now will owners have to think about throttling visual settings to maximize frame rates.
Performance comes via an Intel Quad-Core i7-8750H chipset and an NVIDIA GTX 1050Ti, squeezing impressive stats out of a $1000-ish budget. The laptop is impressive enough as is, but the 16 gigabytes of DDR4 RAM and a 256GB SSD guarantee the laptop to be playable well into the future. Dell also squeezed in a full terabyte of HDD space. Industry experts continue to scratch their heads as to exactly how the Dell G5 managed to stretch its budget this far.
There is a slight issue in regards to the price tag, though, at least for our list. This notebook slightly exceeds our self-imposed limit of $1000, but we still think it's worthy to be included on our list based on the notoriety of its specs and its popularity among gamers.
Convenient Features
Coming in the same case and with the same keyboard as its less-expensive little brother, the Dell Inspiron 15, the computer simply doesn't feel expensive. A full six pounds of brawn and a thick format make the notebook feel like a relic. With a disappointing build quality, you can tell that Dell saved money here. The red color doesn't do much for us either, but it's the least expensive option.
Overall
Dell earns a second entry on our list with a fully-specced notebook that has some of the best RAM and SSD storage in the category. Although the least expensive version of this model comes in slightly above $1000, we had to include it simply in terms of raw specifications. The price, alongside its cheap-feeling case and keyboard, keeps it from being higher up on our list.
Pros
Impressive NVIDIA GTX 1050Ti graphics card
Powerful Intel Quad-Core i7-8750H processor
Full terabyte of HDD space alongside 256GB SSD
16 gigs of DDR4 RAM
Cons
Cheap build quality with keyboard and case
Six-pound weight is heavy for a laptop